ECA Maui Services
---
Consumer Advocates
Let ECA Maui Advocate For You or Your Business
Confusing appraisal? Not sure if you're getting your money's worth? What is a commissioning agent anyway? ECA Maui is here to help you sort it out.
---

Energy Bill Reduction
ECA Maui's Energy Detectives Solve High Energy Bill Mysteries
For your residential water heating needs we recommend using a GE GeoSpring Hybrid Electric Water Heater. Click the link to learn more about how this appliance pays for itself.
For commercial needs, ECA Maui recommends the Colmac HPA WaterHeat Air Source Heat Pump.

---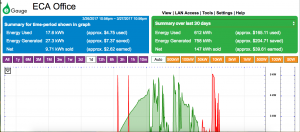 Energy Usage Analysis
ECA Maui Uses the Newest Home Monitoring Equipment to Help Cut Energy Costs.

Click here to visit SiteSage for Homes and to read more about the state-of-the-art home monitoring system ECA Maui uses to help you cut energy costs.
Business owner? Please visit
Why wait? Schedule your consultation and start saving money today!